---
Trialpack Controller Version 3
---
Fleximation is pleased to announce version 3 of its Trialpack Controller clinical blister packaging production control system.
The new version features a completely re-written vision module using the latest image processing technologies.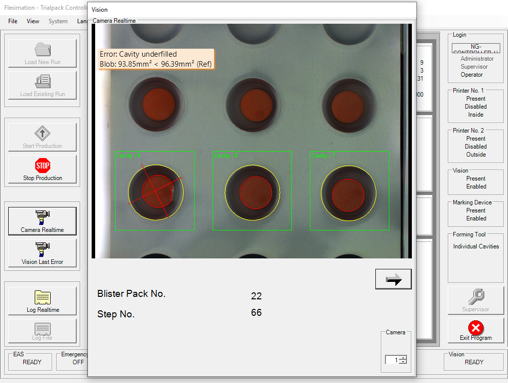 Using a high resolution color camera, it is able to verify blister packs with thermoformed film and cold formed aluminum foil for multiple inspection criteria:
Presence
Shape
Size (area, length, width)
Broken products
Overfilling
Color
Surface defects
Particles
The Trialpack PC Controller Vision Option is able to verify up to four different shapes in a blister pack and is the only solution on the market that does not impose restrictions on the pack format and matches the exceptional, inherent flexibility of the Pentapack machine concept.
---
Previous News Topics:
---
---
Copyright by Fleximation AG 2021. Last updated 20. October 2021. No cookies are placed on visiting devices.