---
Trialpack Robot Blister Packaging System for Clinical Trials
---
Trialpack robotic packaging systems are a fully automatic blister packaging systems purpose designed for packaging clinical supplies. Exceptional flexibility, safety, on-line quality control and fast and easy set-up for the small batch sizes typical of clinical trials were the design parameters, along with the keeping special tooling at a minimum.

The system comprises a robot to fill pharmaceutical products into blisters. Complex packing patterns consisting of up to four different products in the same blister can easily be defined through software with graphical user interface. The system is able to package visually identical products with differing content error free and in complex variations typical for sophisticated clinical trials bringing significants benefits over traditional methods.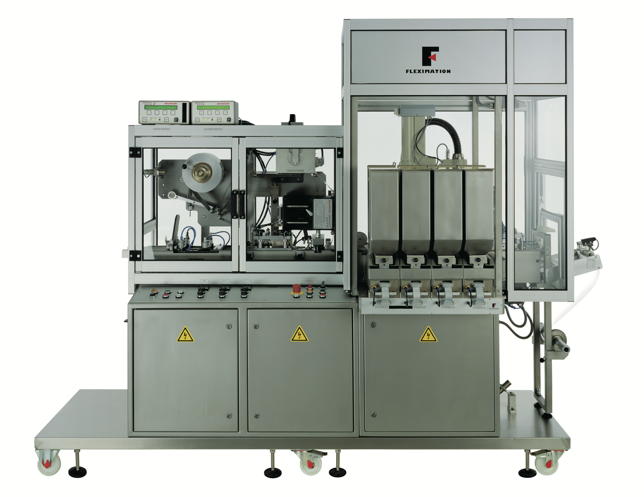 The machine is able to handle the complete range of products used for clinical trails such as capsules, pills etc.. Four feeders supply up to four different products on conveyor bands to the robot arm working area. The products are located bythe camera on the conveyors and acquired by the robot arm. The products do not have to be mechanically aligned before being taken up by the robot's gripper combination of vision system and universal feeding units providig a highly flexible system. The same feeding system can be used for the whole range of products. The vision system is also used to continuously check whether the preceding handling steps have been carried out correctly to provide complete control over the filling process. The blister is checked for completeness after each product placement.
Trialpack Robot Packaging systems are available with Trialprint an optional printing system that permits printing on both sides of the blister cover foil and provisioning for controlling up to 5 individal cavities on a formoing tool to produce asymmetrical blister packs.
---
Key Features
100% reliable packaging by robot of pharmaceutical products for clinical trails into blisters.
Intelligent system able to package combinations of up to four different drugs into the same blister.
Fully automatic execution of packaging program.
Able to handle the complete range of products used for clinical trails such as capsules, pills etc. without mechanical set-up.
Easy mouse-driven programming off-line programming using Trialpack Designer, Fleximation's PC based configuration application. The resulting short set-up time makes processing even small lot sizes economical.
Easy to use graphical user interface provides extensive safeguards against operator's error.
Able to produce complete primary blister packs with full patient compliance information and labelling in a single step operation.
---
Details:

---
Additional Topics:
---
[Home]
[Products]
[News]
[Contact]
---
Copyright by Fleximation AG 1996-2021. Last updated 2. September 2021. No cookies are placed on visiting devices.